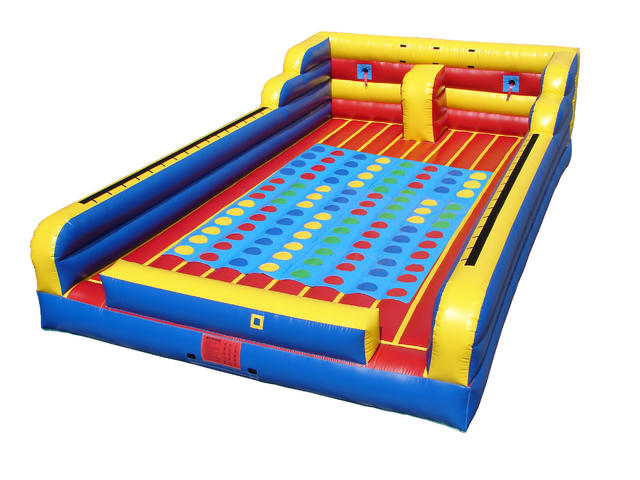 Twister
Actual Size: 30' x 17' x 9'
Setup Area: 35' x 20' x 10'
Outlets: 1
Attendants: 1





$495.00

Please call to reserve this item.

Inflatable Twister Rental: typical twister game but on the infaltable which makes it safer if you fall.
Spin the wheel to see which color to place your hand/feet and get all tangled up in the fun.

Add Joust or Bungee run attachment to this unit
1 Power Outlet within 50 feet required

Up to 4 hours (does not include set up time), $30 for each additional hour if requested during reservation
DOUBLE TIME TO 8HRS rental FOR ONLY $95 !!!


Watch YOUTUBE video of how to play this game by clicking here.
Twister game rental is a classic and fun activity that can add a unique and exciting element to any event. Twister is a game that involves players using their hands and feet to touch colored spots on a mat, while trying to avoid falling over or touching the same spot as their opponents.
Twister game rental services offer a variety of mat sizes and styles to fit both children and adults. The mats are made of high-quality materials that are durable and designed to withstand vigorous activity. The rental package usually includes the twister mat and a spinner.
Twister game rental is perfect for a variety of events, including birthday parties, corporate events, school events, and family gatherings. It's a great way to engage guests, promote physical activity, and create a fun and memorable experience.
The rental service typically includes delivery, setup, and pickup of the twister mat, along with the spinner. Some rental services may also provide an attendant to help with setup and provide instructions on how to play the game.
Using the twister mat is a safe and fun way to engage in friendly competition and promote physical activity. Participants can take turns playing the game and trying to avoid falling over or touching the same spot as their opponents. It's a hilarious and entertaining activity that's sure to leave guests laughing and having a great time.
Overall, renting a twister game is a great way to add a unique and entertaining activity to any event. It's a fun and engaging way to promote physical activity and create a memorable experience that guests will remember for years to come.