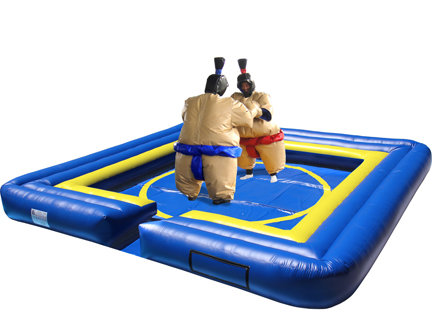 Sumo Wrestling Suits with Inflatable Safety Ring
Actual Size: 25' x 25'
Setup Area: 28' x 28'
Outlets: 1
Attendants: 2




The safest / thickets rental sumo wrestling suits out there with safety inflatable ring for when participants get pushed out of the ring by opponent. Also the floor mat is padded for safety. If you want safety for your kids / participants at your event, this is a way to go.

Includes: 2 sponge filled sumo suits, 2 padded hats, 2 pairs of sumo gloves, padded wrestling floor mat, and inflatable safety ring.
Height Requirement: 5 feet or taller.Needs volunteers to help wrestlers put on / take of sumo suits.
1 Power Outlet within 50ft required

Up to 4 hours (does not include set up time), $30 for each additional hour if requested during reservation
DOUBLE TIME TO 8HRS rental FOR ONLY $95 !!!
2 DAY Rental (30 Hours) – $745 (call in only).


Nothing like sumo wrestling against your teacher at school event, kids/ parents, co-worker or a boss at company picnic. These make great funny videos of two "fat" padded large sumo wrestlers wrestling that you will laugh for weeks after the event. They come with two hats and four gloves that participants are required to wear for safety. Package also comes with soft floor mat that has inflatable ring around it which makes is the safest sumo suit wrestling package you can get in Vancouver / Portland area.

Sumo suits rental is a fun and entertaining activity that can add a unique element to any event. Sumo suits are inflatable costumes that are designed to resemble the traditional sumo wrestler outfit, complete with a padded belly and helmet.
Sumo suits rental services offer a variety of sizes and styles to fit both children and adults. They are made of high-quality materials that are durable and designed to withstand vigorous activity. The rental package usually includes two sumo suits, a padded mat, and a helmet for each participant.
Sumo suits rental is perfect for a variety of events, including birthday parties, corporate events, school events, and team building activities. It's a great way to engage guests, promote physical activity, and create a fun and memorable experience.
The rental service typically includes delivery, setup, and pickup of the sumo suits, along with all necessary equipment such as helmets and padded mats. Some rental services may also provide an attendant to help with setup and provide instructions on how to use the suits.
Using sumo suits is a safe and fun way to engage in friendly competition and promote physical activity. Participants can take turns trying to knock their opponent out of the ring or simply see who can stay in the ring the longest. It's a hilarious and entertaining activity that's sure to leave guests laughing and having a great time.
Overall, renting sumo suits is a great way to add a unique and entertaining activity to any event. It's a fun and engaging way to promote physical activity and create a memorable experience that guests will remember for years to come.