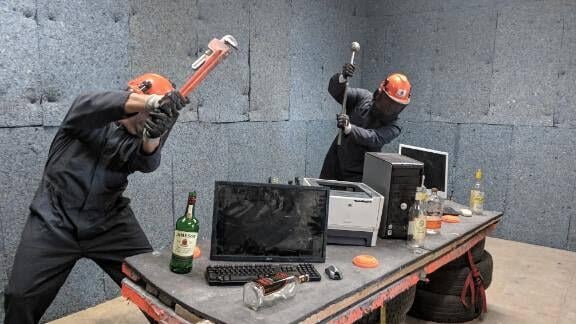 Mobile Smash Room Truck
Actual Size: 25' x 25'
Setup Area: 28' x 28'
Outlets: 1
Attendants: 2





Please call to reserve this item.

Cost $750 for 2 hour event.

Includes items for you to break and you can provide your own as well (subject to our approval). We provide safety gear, overalls, safety googles, helmet.
Please make yourself and your group aware of our rules and regulations.
BEFORE YOU COME:
1. Participants should arrive wearing attire fit for physical exercise and covering as much skin as possible. You are required to wear closed-toe shoes (no crocs, sandals, etc).
They are required to participate, no exceptions.
2. Participants must sign the waiver. If the participant is under 18 the waiver must be signed by an adult over 18.
IN THE ROOMS:
1. Only throw items in direction of the "Throw Walls" or floor. No throwing is allowed towards the wall with the doors. Throwing items at an off-limits wall may result in a fine for damages.
2. Use good judgment and pay attention to your surroundings. Watch where you are swinging.
3. Keep safety equipment on and sleeves rolled down at all times.
4. All activities in the room will be monitored through video cameras.
5. No throwing of the tools or using the tools to hit the walls or floors directly.
WHEN YOU'RE SESSION IS DONE:
1. Once your timer has gone off, participants will leave all material and tools in the room, exit, and leave their hard hats, safety glasses, and protective gloves in a designated location.
SAFETY EQUIPMENT:
You will be provided the following before you enter the room:
Coveralls
2. Safety Gloves
3. A helmet with a face shield and ear muffs
4. Optional safety glasses