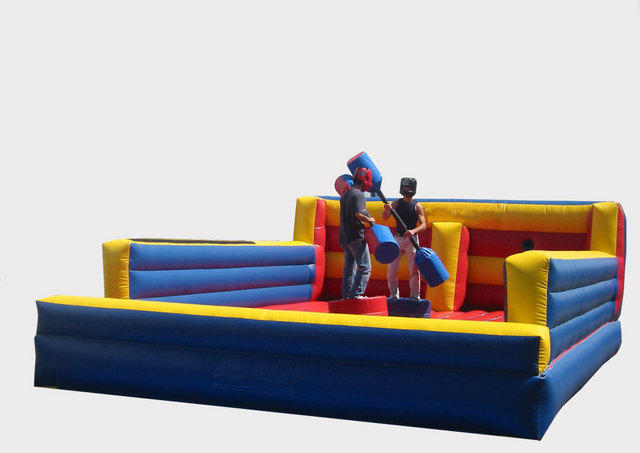 Joust
Actual Size: 30' x 17' x 9'
Setup Area: 35' x 20' x 10'
Outlets: 1
Attendants: 1




Inflatable Joust Rental: 2 people get on raised platform and try to push the other person off with a joust pole. "Gladiator" that falls on the inflatable platfrom first loses.
Joust Arena / AKA Gladiator Arena / Jousting areana is great challenging game for older kids and adults. Includes 2 helmets for safety and 2 fully padded foam joust poles.


Add Twister or Bungee run attachment to this unit
1 Power Outlet within 50 feet required

Up to 4 hours (does not include set up time), $30 for each additional hour if requested during reservation
DOUBLE TIME TO 8HRS rental FOR ONLY $95 !!!
Joust game rental is a thrilling and exciting activity that can add a fun and competitive element to any event. Jousting is an ancient sport that involves two participants battling each other with padded lances while standing on a platform.
Joust game rentals provide a modern take on this classic sport, using inflatable platforms and padded lances to create a safe and entertaining experience for participants. The rental package typically includes two jousting platforms, padded lances, and helmets for each participant.
Joust game rental is perfect for a variety of events, including birthday parties, corporate events, school events, and team building activities. It's a great way to engage guests, promote teamwork and communication, and create a fun and memorable experience.
The rental service typically includes delivery, setup, and pickup of the jousting platforms, along with all necessary equipment such as padded lances and helmets. Some rental services may also provide an attendant to help with setup and provide instructions on how to play the game.
Using jousting platforms is a safe and fun way to engage in friendly competition and promote teamwork. Participants can take turns battling each other on the platform, trying to knock their opponent off with their padded lance. It's a thrilling and exciting activity that's sure to leave guests cheering and having a great time.
Overall, renting jousting platforms is a great way to add a unique and entertaining activity to any event. It's a fun and engaging way to promote teamwork and communication and create a memorable experience that guests will remember for years to come.