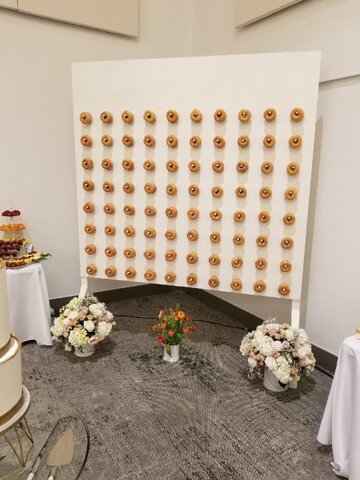 Donut Bar Wall Rental
rental Cost: $195
Introducing our delightful and eye-catching Donut Bar Wall Rental, designed to add a touch of whimsy and indulgence to your special event or occasion. This unique and delectable display is perfect for weddings, birthday parties, corporate gatherings, or any event where you want to delight your guests with a scrumptious treat.
The Donut Bar Wall is a visually captivating installation featuring a sturdy and elegant wall structure that showcases an assortment of mouthwatering donuts. Crafted with attention to detail, this rental item is designed to create a memorable experience for your guests, igniting their sweet tooth and leaving them with a lasting impression.
Key Features:
Stunning Visual Appeal: The Donut Bar Wall is an exquisite backdrop that instantly grabs attention with its beautifully arranged display of colorful and delectable donuts. It serves as a focal point, adding a touch of elegance and playfulness to any event.

Customizable Assortment: The donut selection can be tailored to suit your preferences and event theme. Choose from a wide variety of flavors, including classic favorites like glazed, chocolate, and jelly-filled, as well as unique options such as maple bacon, cookies and cream, or seasonal specials.

Interactive and Self-Serve: The Donut Bar Wall encourages guests to engage and interact with the display. They can easily help themselves to their preferred donuts, creating an enjoyable and interactive experience for everyone.

Versatile Setup: The rental package includes the Donut Bar Wall, which can be set up indoors or outdoors, depending on your event requirements. The structure is designed to withstand various weather conditions, ensuring a seamless experience for your guests.

Professional Setup and Assistance: Our dedicated team will deliver and set up the Donut Bar Wall, ensuring everything is arranged to perfection. They will also provide any necessary assistance during your event, ensuring a hassle-free experience for you and your guests.
Please note: The rental package does not include a donut server or any additional decorations. However, we can provide recommendations or connect you with trusted vendors who can assist you in complementing the Donut Bar Wall with additional services, such as a donut server or themed decorations.
Make your event a memorable and delicious affair with our Donut Bar Wall Rental. Indulge your guests with a visually stunning and irresistibly sweet experience that will leave them craving for more. Contact us now to reserve this delightful addition to your next event.