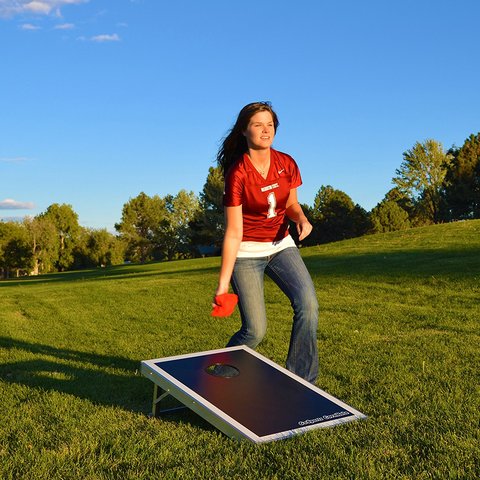 Corn Hole Game
Corn Hole (2 boards), rental includes bean bags so it is all ready to play at your event.
Cornhole game rental is a popular and exciting activity that can add a fun and competitive element to any event. This game is played by two or more players, who take turns throwing small bean bags at a raised platform with a hole in the center. The objective is to score points by getting the bean bags into the hole or on the platform.
Cornhole game rental services offer a variety of game sizes to fit both children and adults. The rental package typically includes two cornhole boards, eight bean bags, and a carrying case for easy transportation. The boards are made of high-quality materials that are durable and designed to withstand frequent use.
Cornhole game rental is perfect for a variety of events, including birthday parties, weddings, corporate events, school events, and family gatherings. It's a great way to engage guests, promote friendly competition, and create a fun and memorable experience.
The rental service typically includes delivery, setup, and pickup of the cornhole boards, along with instructions on how to play. Some rental services may also provide an attendant to help with setup and provide additional games or activities.
Using the cornhole game is a fun and engaging way to promote hand-eye coordination and strategy. Participants can take turns throwing the bean bags at the board, trying to score as many points as possible. It's a challenging and entertaining activity that's sure to leave guests having a great time.
Overall, renting a cornhole game is a great way to add a unique and entertaining activity to any event. It's a fun and engaging way to promote hand-eye coordination and strategy and create a memorable experience that guests will remember for years to come.